K&K HOUSE
The powerful, innovative but it maintain the cozy is the difference of K&K House apartment. CityHouse wants to convey "the personality" through the "house" which tenant connect. The outstanding is a harmonious interior layout, delicately adorned with cold cardboard furniture to convey a positive energy to homeowners.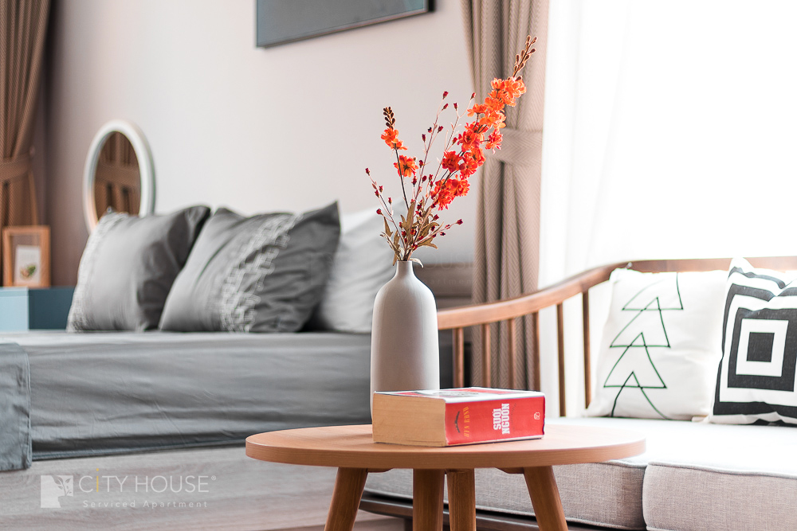 Utilities Around
Hai Nam Park
For Phu Nhuan people, Hai Nam park is an indispensable "lung". The park is always bustle in the early mornings and late afternoon with many different activities. Besides, the park also has a separate leisure center for kids as a swimming pool, ball house, a safe climbing game with sandy ground. This will be the ideal place for both your health and spirit after each working day with a distance is a few minutes away.
California Yoga Fitness
The system of 5-star California gyms seems to be no stranger to the citizen because of the city's wide net coverage.
When coming here, customers will be completely assured by the quality of the gym, the machinery as well as the professional staff. The branch is located at Phan Xich Long street with only 7 minutes of circulation.
Phan Xich Long Street
Phu Nhuan is considered as one of the new modern urban of the city, especially the bustle Phan Xich Long street where many famous restaurants, milk tea shop and cafe with the sound of multi - cuisines. The road also has countless utilities such as: hospitals, banks, gas stations, grocery stores ... just 7 minutes from the building.
Co.opMart Rach Mieu
Co.opMart Rach Mieu supermarket is located at No. 48 Hoa Su street. This is the 42nd supermarket in the Co.opMart system and is built according to the market - supermarket model with a trade center. Co.opMart has many areas: food court, fast food stall, jewelry sales area, glasses, watches,  leisure center for kids  ...
Co.op Food
Here business is mainly all kinds of food and some utensils with modern style, meeting the needs of daily food purchase to ensure food safety, hygiene and convenience of the people. The shop is open from 6 am to 21 pm daily.
Streets cuisine
Not as luxurious as District 1 and District 3 with many restaurants and lounge, Phu Nhuan concentrate on street delicacies traditional food from 3 regions of Vietnam. Don't be afraid of being hungry when you are in the centre of delicious culinary delights and cheap.